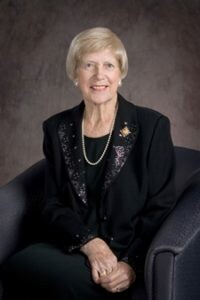 Lois Elsa Hole, CM, AOE was a Canadian politician, businesswoman, academic, professional gardener and best-selling author.
In 1950, Lois met Ted Hole, a young University of Alberta agriculture student. They married and moved to a farm near St. Albert. Lois and Ted ran a successful market garden business from their farm which they, along with their sons Bill and Jim, incorporated as Hole's Greenhouses & Gardens Ltd. in 1979.
She was first elected to our Board of Trustees in 1980, and was re-elected for five more three-year terms until 1998 when she was appointed Chancellor of the University of Alberta. During her time with our district, the Board of Trustees introduced many initiatives, including our French Immersion and Logos Christian programs, and built Bellerose Composite High School.
She served as the 15th Lieutenant Governor of Alberta from February 10, 2000 until her death. She was known as the"Queen of Hugs" for breaking with protocol and hugging almost everyone she met, including journalists, diplomats and other politicians.

Her accomplishments were many. She was appointed a Member of the Order of Canada in 1999 and a Dame of Justice of the Most Venerable Order of the Hospital of St John of Jerusalem in 2000. In 1995, she was named Edmonton Business and Professional Woman of the Year and St. Albert's Citizen of the Year. In 2003 she was awarded the Gandhi, King, Ikeda Humanitarian Award. She was made an"Honourary Patricia" by the 1st Battalion Princess Patricia's Canadian Light Infantry.
The Alberta Library Trustees Association (ALTA) established the Lois Hole Award in 2001. In November 2004, two months before her death, the Capital Health Authority in Edmonton announced that a new wing of the Royal Alexandra Hospital would be named The Lois Hole Hospital for Women.
In 2005, the Lois Hole Centennial Provincial Park was established, becoming the 69th provincial park in Alberta. The park contains the former Big Lake Natural Area. The lake makes up around 59 per cent of the park's total area.
In 2008 the Edmonton Public Library opened their newest location, the Lois Hole Library, in west Edmonton. It features a sculpture of Lois Hole by Danek Mozdzenski and a reading garden. In 2009, the City of St. Albert declared May 14th to be Lois Hole Day. A bronze statue designed by Barbara Paterson called A Legacy of Love and Learning was unveiled at city hall on this day.